About The Magick Garden
The Magick Garden is a magickal sanctuary surrounding my sweet little Gingerbread House in the charming village of Richmond, Maine.  The Magick Garden was created out of my own need for Serenity, Beauty, Peace, Healing and Community, and my love of Nature, Gardening and Creative Expression.   Through my website, newsletter and Facebook page, I will share with you images, thoughts,  information about my services, gatherings and other events, as well as nature-inspired gifts from the garden. 
~Jennifer  ♥
About Jennifer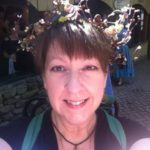 I graduated from the University of Southern Maine with a Bachelors Degree in Nursing in 1983.  I continue to work parttime as a nurse.  In 2006 I went back to school to become a massage therapist and graduated from the Central Maine School of Massage Therapy in 2007. In 2009 I completed my training in Usui Reiki and earned my Reiki Master certification.  I recently completed the Master Gardener Volunteer course through the University of Maine Cooperative Extension.  I'm in the process of accumulating the required volunteer hours which will enable me to officially call myself a Master Gardener. 
Through all my education runs a common theme of healing, helping, teaching and a search for beauty and creative expression.
Come Into The Garden…