About The Magick Garden
The Magick Garden is an enchanted sanctuary surrounding my little Gingerbread House in the charming village of Richmond, Maine.  The Magick Garden was created out of my own need for Serenity, Beauty, Peace, Healing and Community, and my love of Nature, Gardening and Creative Expression.   Through my website, newsletter and Facebook page, I will share with you images, thoughts,  information about my services, gatherings and other events, as well as nature-inspired gifts from the garden. 
~Jennifer  ♥
About Jennifer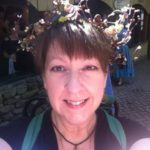 Owner of The Magick Garden, I am an Artisan, Master Gardener, Licensed Massage Therapist, Reiki Master/Teacher, Hedgewitch, and student in the art of Hygge!  Together with my partner, Tom, and kitty brothers, Fergus and Finn, I live in a sweet little Gingerbread House surrounded by ever-expanding gardens, in the charming village of Richmond, Maine.
I have always loved the creative arts and in 2006 began a journey to merge my many interests.  Nature has remained a common theme throughout my life and is the focus of my art.  Using foliage, flowers, and other natural materials from my own gardens and forage walks through woodland and on beaches, I craft unique and beautiful nature-inspired art for home and garden.  Much of my work has been in concrete.  I craft Garden Leaves and Flora Fossils using the actual flowers and foliage of native plants.   More recently I have begun using air-dry clay to craft leaves and Flora Prints.  These are hand painted and coated with a light seal.