About The Magick Garden
The Magick Garden is an enchanted sanctuary surrounding my little Gingerbread House in the charming village of Richmond, Maine.  The Magick Garden was created out of my own need for Serenity, Beauty, Peace, Healing and Community, and my love of Nature, Gardening and Creative Expression.   Through my website, newsletter and Facebook page, I will share with you images, thoughts,  information about my services, gatherings and other events, as well as nature-inspired gifts from the garden. 
~Jennifer  ♥
About Jennifer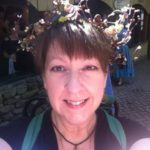 Owner of The Magick Garden, I am an Artisan, Master Gardener, Licensed Massage Therapist, Reiki Master/Teacher, Hedgewitch, and student in the art of Hygge!  Together with my partner, Tom, and kitty brothers, Fergus and Finn, I live in a sweet little Gingerbread House surrounded by ever-expanding gardens, in the charming village of Richmond, Maine.
I have always loved the creative arts and in 2006 began a journey to merge my many interests.  Nature has remained a common theme throughout my life and is the focus of my art.   I am endlessly inspired by the lush beauty of our Wild Earth.  The glorious textures, colors and shapes inform my art.  Using foliage, flowers, and other natural materials from my own gardens and forage walks through woodland and on beaches, I craft unique and beautiful nature-inspired art for home and garden.  Much of my work has been in concrete; resulting in Garden Leaves and Flora Fossils using the actual flowers and foliage of native plants.   Not to be forgotten are the feathered friends and much-welcomed pollinators who visit our gardens.  My Bird Nesting Balls are grapevine balls filled with sheep's wool and dried plant material, which may be refilled each year.  Hummingbird Perches are crafted with copper wire, which will develop a lovely verdigris finish over time, and a natural wood branch perch coated with a light sealant.
Please visit the Gallery page for photographic examples of my art and craft.
~Jennifer  ♥